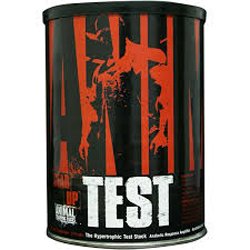 #3. Universal Nutrition Animal Test ($65 @ Amazon.com)
Estrogen is the girly hormone, and this testosterone booster keeps it in check.
"Animal Test contains all-natural ingredients to limit side effects related to hormone imbalance," Brockert says.
Also: 5 Hair Loss Supps For Balding Men
Universal Nutrition has been around since the 1980s and has a reputation for testing the hell out of their products. With their patented Pro-Androgen Complex, they've managed to stimulate testosterone while balancing estrogen. So we feel confident when we say that Animal Test will make you less of a girly man.