The Office managed to keep its core cast together for seven seasons before Steve Carell left Dunder Mifflin/Sabre to focus on making movies. The show had already been getting stale — it's tough to make seven years at a paper company with shockingly low turnover continually interesting — and trying to replace Carell with a revolving door of celebrity guest stars, tired story lines, and James Spaders didn't do much to change that. Now, show regulars B.J. Novak (Ryan Howard), Mindy Kaling (Kelly Kapoor), James Spader (Robert California), and showrunner Paul Liberstein (Toby Flenderson) all announced they're leaving Scranton. Despite that, season nine is on the way.
So in honor of The Office trying, um, valiantly to carry on despite the fact that half the cast has left or is leaving, we thought up eight other shows that soldiered on despite losing key cast members.

#8: HAPPY DAYS | 1974 – 1984
For the first seven of its 11 seasons, Happy Days centered on Richie Cunningham, even though Fonzie was the most popular character. So when Ron Howard decided he'd be better served directing movies than playing a goofball who still lived with his folks and said "bucko" all the time, Happy Days execs knew they were in trouble. So they brought in sitcom assassin Ted McGinley in 1980 to play Richie's cousin. Although the sitcom had already jumped the shark (Literally. The phrase refers to an infamous season-five episode in which Fonzie water ski-jumped over a shark.), Howard's departure sealed the show's fate.
Still, what Happy Days did wasn't as egregious as the stunt its spinoff show Laverne & Shirley pulled, which was to continue to call itself Laverne & Shirley even though there was no longer any Shirley.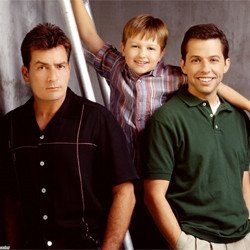 #7: TWO AND A HALF MEN | 2003 –
When the show premiered on CBS in fall 2003, it quickly became apparent that Charlie Sheen's womanizing Charlie Harper was the straw that stirred the drink (or snorted the powder). So when Sheen got canned in March 2011 for trashing the show and acting like an insane person, some people wondered whether the show — now One and a Half Men — would go on permanent hiatus. Instead, CBS hired Ashton Kutcher as Sheen's replacement, and used the season premiere to kill Harper off and use Sheen's star power to snag a few more ratings points. It worked, but it wouldn't last; the show hit an all-time ratings low later on in the season.