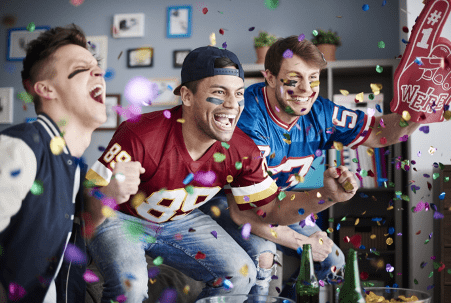 Football is back. 
Whether you're in it for the casual entertainment, are a diehard fan, play fantasy football, or want to place some bets, you're probably excited about NFL season. We're in for one of the most interesting seasons ever as we build to the Super Bowl. 
Read on to learn more about Super Bowl 2021 and what you should expect from it. 
When and Where Will Super Bowl 2021 Take Place?
Super Bowl 2021 will take place on February 7, 2021, in Tampa. The best teams from the NFC and AFC will take over Tampa Bay's Raymond James Stadium for this annual event. 
The league has gone through a lot of changes recently, even outside of the COVID-19 pandemic that is rocking the world right now. 
Some of the biggest happenings in the offseason involved Cam Newton going to the New England Patriots, and Tom Brady becoming a Tampa Bay Buccaneer. Teddy Bridgewater earned a starting role in Carolina, and college football national champion quarterback Joe Burrows takes over in Cincinnati. 
We've turned a corner in the league, with the old guard all but gone, and young stars like Patrick Mahomes and Lamar Jackson carrying the mantle. 
How Soon Will I Know the Teams That Will Play?
The NFL started its season on-time, so barring any postponements, the playoffs will also go through without delays or setbacks. The Wildcard round begins Jan. 4 of 2021. In the subsequent weekends, AFC and NFC teams will play the Divisional round and then the AFC and NFC championships to determine which teams from each conference will play in the Super Bowl. 
Make sure that you check around for Super Bowl 2021 odds so you can place a bet. 
As of right now, Baltimore and Kansas City are tied as the favorites to win it all. These are the teams that played each other in last year's AFC Championship game, so we could be witnessing the next evolution of the league, and the two powerhouses that develop into a rivalry for the next 10 years and beyond. 
This is similar to how in the previous generation of players, Peyton Manning and Tom Brady would often square off to see who would go on to the Super Bowl. 
Will Fans Be in Attendance at the Super Bowl?
As of right now, the league is planning to hold the Super Bowl as planned, with fans in attendance. We're a long way from this game, so it doesn't make sense to make any firm predictions about whether this happens. 
You will need to keep playing it by ear so that you can jump on tickets as they are released if you plan to attend the game. 
Stay Tuned for Super Bowl News and Notes
Super Bowl 2021 will be here before you know it. 
The league kicked off with mostly no fans, and there is plenty of football left to be played. So who will play in the big game next year? We don't know yet, but it'll be a fun ride to find out. 
Be sure to check back with us for more football news as the season plays out.