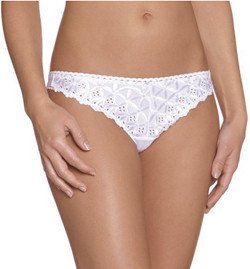 White Cotton Panties
A woman who chooses (seductive) tighty whities is low maintenance.
Also: 5 Reasons She Might Not Be 'The One'
"She's the no-frills type," Baumgartner tells me. "She doesn't need sexy fabric or prints to show you she's hot." Her preference also suggests that she's comfortable around you and likes you enough to reveal her vulnerable side. "It's the underwear equivalent of seeing her without her makeup on." And when it comes to sex, she likes things simple (at least at first), so save Flying Anteaters positions for when you've hooked up a few times.
Pictured: Aubade Paris Bahia Tanga ($50 and up @ Amazon.com)

NEXT: RETRO UNDIES