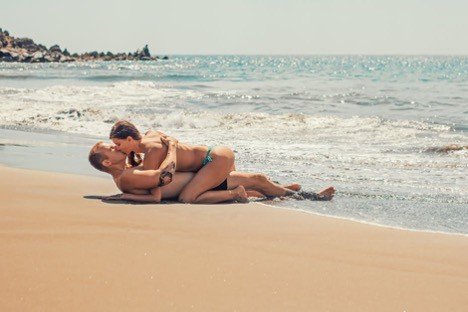 Did you know that traveling together can be a huge benefit for couples? In addition to quality time from getting away to a new place, traveling can also help couples to reconnect and bring a new flame to a relationship.
One of the main perks of vacationing with your significant other is that it can be a great time for intimacy. You can enjoy a fun getaway with your partner and also get more alone time.
Would you like to learn more about having sex on vacation? Here are some vacation sex tips to make the most out of your travel time with your partner.
1. Always Bring Protection
No matter what, you should always be protected while having sex on vacation. The last thing you should worry about while traveling is the possibility of pregnancy or a sexually transmitted infection.
Always take your normal method of birth control if you need to. For example, if you are on the birth control pill, you should double-check that you have your medication before you leave for your trip.
Even if you are on another form of birth control, it is always a good idea to bring condoms as a precautionary measure. That way, you can avoid pregnancy and getting any kind of infection from a sexual partner.
2. Avoid Screens During Intimate Time
Screens are incredibly distracting, and you may be lured to take a peek at your phone, tablet, or laptop even while getting intimate with your partner. Therefore, the best policy is to try and avoid them altogether and focus on each other.
You can talk to your partner about putting your devices in another room before you engage in sexual activity. That way, neither of you will be distracted by the lights and noises of technology.
If you want to involve your phone in your sex life, you can try using adult phone sex numbers. You dial a special number and you can talk to someone with your partner to help you both get in the mood.
3. Try New Things With Your Partner
One excellent way to spice up your intimacy during vacation is to try something new. In an unfamiliar setting, you and your partner may feel bolder about experimenting.
You can get adventurous and buy some new toys to play with while getting intimate. For example, bondage may be a fun idea if you like to be blindfolded or tied up.
If you want guidance, you can also try new sex positions from a book or video. Learning new things together can be a wonderful bonding experience that will also add new excitement to your sex life.
4. Do It In or Near the Water
If you are wondering where to have sex while on vacation, you should consider trying it in the water. However, it might be difficult if you have lubrication issues, so be prepared for complications.
A great alternative that can still be intimate is having sex near the water. For instance, if you are on a secluded beach, you can have a good time with your partner before or after taking a dip in the ocean.
For beach sex, make sure to lay down a towel or other protection so that sand does not cause problems like chafing or infections.
5. Listen to Your Body
Even if you plan your getaway to have more sexy time with your partner, you should still consider your limits. It is totally fine if you need to take a break while having sex with your partner or even just take a day off.
Remember to communicate with your partner so that no feelings are hurt. You can use the break to do other intimate things or simply just spend time together.
You should also consider your hormones and how they can affect your sex drive. If possible, you can look ahead and plan around how you might feel during the trip.
6. Switch Up Your Roles
Role-playing is one of the most popular sex games, and for good reason. It gives couples a chance to explore intimacy from a new point of view.
For a sexy surprise, try packing an outfit to show your partner that they have not seen you in before. This can take your sex game to the next level and bring in more fun.
You and your partner can even plan out scenarios to act out together while having sex. This is one of the best vacation sex strategies to switch things up when you get bored or feel stagnant.
7. Make the Most of Your Hotel Room
One of the advantages of traveling is that you can stay in a nice resort or hotel room that is private. When you are not out and about, you can relax together in your hotel room.
If your hotel room has a big bathtub, you can try taking a hot bath together. It is a fun activity that can also be incredibly relaxing for couples.
To bring things to the next level, you can also use the bed for new positions. Most beds also have a headboard that will enable you to use bondage if you want to experiment with roleplaying.
8. Rest and Relax When Needed
Although you can use a vacation to revive your sex life, it is equally important to rest. Vacation is all about rejuvenating and resetting stressful aspects of your life.
Even hanging out in bed with your partner and cuddling can release bonding hormones. Cuddling has been shown to strengthen affection between couples and release stress.
It is important to take breaks between activities while on vacation, even having sex with your partner. Rest days can allow you to recharge and get ready for other things you might want to do before you leave.
Sex on Vacation Should Be Fulfilling
When you have sex on vacation, you should have a great time with your partner. With these vacation sex tips, you are sure to have a wonderful trip together and explore intimacy along the way.
Want to learn more about connecting with your partner? Check out our blog for more relationship advice.