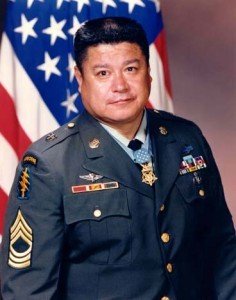 MASTER SGT. ROY BENAVIDEZ
Remember that scene in Forrest Gump where he rescues a half-dozen wounded soldiers en route to finding Bubba? Benavidez makes Gump look like a slacker. After voluntarily boarding a doomed rescue mission into hostile North Vietnam, Benavidez lept from a hovering helicopter and ran 75 meters into battle, sustaining wounds in his leg, face, and head. After escorting more than half of his wounded team members to safety, Benavidez dove back into heavy fire to recover the body of his team leader, which held several important classified documents. On the way, he took fire to the abdomen and grenade shrapnel in the back. But somehow, after being wounded 37 times, he still managed to return to the survivors, establish a defensive perimeter, and hand out water and ammunition until air support arrived.
It gets badasser…: Just for kicks, as Benavidez helped the wounded onto the rescue aircraft, he killed two oncoming enemy soldiers who were rushing at an angle inaccessible to the mounted machine gunners. Plus, he never showed LBJ his ass wound.