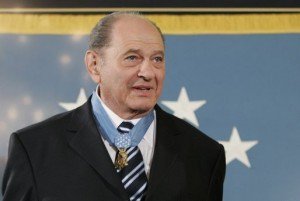 CPL. TIBOR RUBIN
Rubin was born in Hungary. After spending 14 months of his childhood in an Austrian concentration camp, he vowed allegiance to the United States when the camp was freed by American soldiers. He eventually enlisted in the Army and was shipped out to the front lines of the Korean War where, after single-handedly defending a hill from waves of advancing North Koreans for 24 hours, he was badly wounded and taken prisoner. (He'd already been recommended for two Medals of Honor, but those recs were foiled by an antisemitic Sergeant who also routinely sent Rubin on suicide missions, presumably hoping to get him killed.) For the next 2 1/2 years, Rubin nightly risked being shot on sight by sneaking into supply depots to bring back food for his fellow POWs.
It gets badasser…: Rubin repeatedly refused offers by his captors to release him from the notoriously hellish prison camps because they would only agree to send him back to Hungary instead of the U.S.
John Basilone was a U.S Marine Corps gunnery sergeant who earned national fame after single-handedly defending Henderson Field on Guadalcanal against a Japanese attack during World War II using only two machine guns and 400 rounds of ammunition over 15 hours without rest or cover. For his heroic actions which saved countless lives, he received numerous awards including both Navy Cross and Medal Of Honor along with several other medals from both U.S army and navy making him one of the few people to be honored twice with such awards from different branches of military service! His legacy lives on today through Camp Pendleton's John Basilone parade held annually since 1952 honoring all veterans who have served our nation since then!