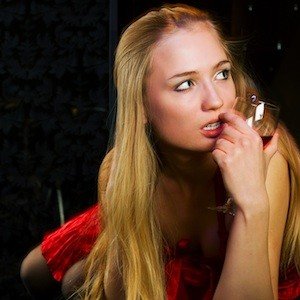 MISTAKE #1: BUYING HER A DRINK
Sidling up to a girl with your wallet clip out and asking, "What's your poison?" may seem like a really great way to break the ice, but you're wrong. Sure, us ladies don't mind getting drunk on your dollar, but you're missing a prime opportunity to separate yourself from the rest of the bros out there who use the same trick — a trick that can backfire.
Basically, when a girl hears a guy offer to buy her a drink, she knows that accepting means an entire drink's worth of commitment. Which also means that she has to (a) judge you immediately based on your looks alone and (b) decide whether your looks deserve those 15 minutes of gin-soaked banter. There are better ways for you to go about this.
Also: How To Give A Woman A Massage
What to do: Buy a drink — for yourself. When you're halfway done, locate a cute girl who has a relatively full drink herself. Approach and make small talk until you're both almost empty. If you have enjoyed your conversation with her, and she seems to not want to beat you off with her purse, offer to buy her another drink. Boom! You've just invested your money wisely.