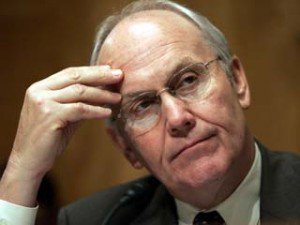 Larry Craig
Craig, a conservative Republican Senator from Idaho, was an enthusiastic supporter of anti-gay legislation. Well, all things considered that's not all that surpr — oh, wait.
Craig was arrested in 2007 at Minneapolis-St. Paul International Airport for propositioning an undercover cop in a men's room. Craig allegedly waived his hand under the partition, tapped his foot several times, and pressed his foot up against the officer in the neighboring stall. This was apparently a secret code for dudes who liked to get it on in airport bathrooms.
When questioned about whether or not he was trying to solicit sex, Craig told cops he simply had a "wide stance." Lol!
Craig pleaded guilty to disorderly conduct, but never admitted to soliciting sex from a man. Following the incident, eight gay men came forward claiming to have been either approached by Craig for sex, or to have actually boned Craig. He denied it as he served out his term. He did not seek reelection.