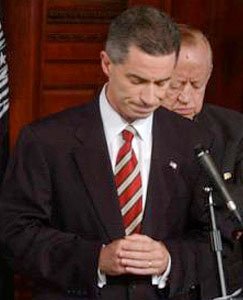 Jim McGreevey
McGreevey served as a democratic Governor of New Jersey from 2002 to 2004, when he abruptly resigned and proclaimed that he was "a gay American." A story that he was having an affair with a former Israeli Defense Force member who had worked on McGreevey's gubernatorial campaign was going to break any day, and he thought coming clean would help him save face. It didn't.
Further reports in the press made it seem as if his wife may not have been as shocked as the rest of the country. Teddy Pedersen, a former driver for the governor, came forward with a story about how the governor and his wife Dina regularly engaged in threesomes with him. Those romantic nights would allegedly begin at a local T.G.I. Friday's and then move back to the governor's home. Pedersen contends the three even had a special name for the trysts: "Friday Night Specials."
The McGreeveys divorced in 2008.