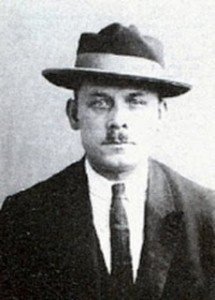 Karl Denke  (1903-1924)
Number of victims: 31
The Silesia, Germany native played the organ at his local church and went by the endearing moniker of Vatter, or "Papa."
That's why police were so surprised when they were summoned to Denke's home on December 21, 1924 after a panicked young man emerged from the home looking suspiciously like he'd been attacked with an ax. Upon investigating the house, police found all the trappings of total foodie: meats brining in the tub (a little strange) and in large pickle jars, and containers of rich, creamy fat everywhere. Delicious!
However, it was people! Denke had been killing and eating houseguests for years. Rumor has it he even sold some of the meat at a local market. A day after he was thrown in the clink, Denke hanged himself in his cell.
Next: Thug Behram