Don Julio 70 | $60
Anejo tequila is typically brown in color, but by using a specialized filtration process, Don Julio has created the first Anejo Claro. As the name suggests, this new double-distilled spirit was created for the company's 70th birthday. It's made from mature blue agave at the fabled La Primavera distillery, and it's aged in American white oak barrels for a year and a half. From a taste and aroma standpoint, it's different from pretty much any other tequila you've tried. Because it's been aged, it picks up distinct notes from the barrels, but the filtration process gives it a cleaner taste that augments the fruit rather than overpowering it. The final result is a unique take on a familiar taste.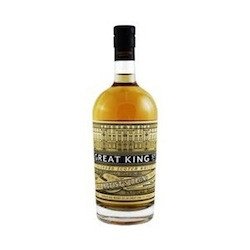 Compass Box "Great King St. Artist's Blend" Blended Scotch Whisky | $39
By combining single malt whiskies with some single grain whiskies, Compass Box has created a veritable Scotch Voltron that combines the high points of each variety into a single spirit. The blend is smooth enough for cocktails, but complex enough to be enjoyed neat.

MORE EVOLVE AWARDS:
Automobiles
Shaving & Skin Care
Entertainment
Apparel
Gadgets & Toys
Outdoor Gear
Hair Care
Accessories
Mobile Apps
Smelling Good